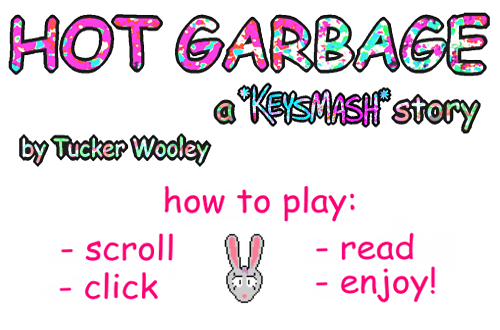 Hot Garbage: A Keysmash Story
<< CONTENT WARNINGS: strong language; discussions of homelessness, climate change, classism, and gentrification >>

"HOT GARBAGE: A Keysmash Story" is an interactive fiction game comic thing, and #4 in the Keysmash series.
You are ESTHER COTTONTAIL, student at the Storm Coast College of Art and Delima's (from the previous Keysmashes) roommate. Your Color Theory teacher has taken you on a "community outreach" field trip to the Storm Coast Aqueduct, a polluted and trickling waterway whose condition has worsened recently due to local wildfires. You and your classmates are tasked with cleaning the area of its plentiful garbage. Discover trashy treasures, solve mysteries, and explore the aqueduct in a funny interactive Keysmash story.
All "Support This Game" donations will go to California Wildfire Relief!

HOT GARBAGE was programmed using Inky, a great interactive fiction program that uses CSS and JavaScript. To make up for my inability to implement sound and background music, and also because this is a Keysmash property, I made a HOT GARBAGE playlist for you below. Put that on in another tab if you'd like, and/or listen to the album "Skelethon" by Aesop Rock.
<< THE HOT GARBAGE PLAYLIST >>
>> spotify link! <<
> intro: lost by shad
> night terrors by bad moves
> the hole by laura stevenson
> cars with the boom by l'trimm
> pigpen by slothrust
> tuesday by malibu ken
> kids by PUP
> bee kind to the bugs by culture abuse
> FU by J.R.
> chinese satellite by phoebe bridgers
> zombie by the cranberries by AJJ by AJJ
> zero dark thirty by aesop rock
> nonbeliever by lucy dacus
> pleasure cruise by the scary jokes
> the trash the trash the trash by jeff rosenstock
Let me know if you run into any bugs! Thank you so much for playing! You can find the other Keysmashes on my itch and/or Gumroad for pay-what-you-can!
Big thanks to my friend Lillie for HTML and JavaScript help!