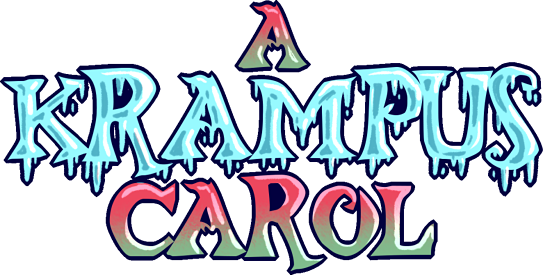 A Krampus Carol
it's the sequel to "don't be a krampus!" (probably read that first, it's short.)
when krampus gets really into cryptocurrency (boooooo), his estranged business partner santa claus sends three ghosts to try and get him to character-develop. but krampus' denial goes deeper than anyone thought; can their phantasmagorical psychotherapy break through to him?
a 62-page full-color comic originally published on twitter and instagram, now in PDF form + featuring cool bonus pages.

++ CONTENT WARNINGS ++

eyestrain (throughout)
mild body horror
mild swearing
suicidality (implied)
references to alcohol

want more? the "holiday theatre" series has its own page on my little website. maybe browse around the rest of the site too, why dontcha?
(it should be pretty clear, but this project in no way endorses - and in fact, condemns - NFTs and crypto. if you come across any of my work on the blockchain, it's stolen, so let me know please! tucker13x@gmail.com, thanks love you don't destroy the environment)

HAPPY HOLIDAZE BABYYYYYYYYY WOOOOOOOOOOOOOoooooooo

Download
Click download now to get access to the following files: